Roll over image to zoom in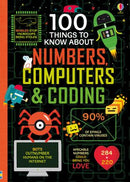 Description
Did you know there's a single spot on your brain that recognizes numbers? Or that the first computer bugs were actual insects and that most of the internet is under water? This fascinating book is filled with 100 fascinating facts, bright, infographic illustrations, a glossary and index, and links to specially selected websites to find out more.
Author: Alice James, Eddie Reynolds, Minna Lacey, Rose Hall and Alex Frith
Illustrator: Federico Mariani & Parko Polo
Hardcover
128 pages
Suitable for ages 8+
CB/RN09/20
Payment & Security
Your payment information is processed securely. We do not store credit card details nor have access to your credit card information.