Roll over image to zoom in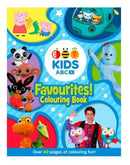 Description
All your favourite characters come together at ABC KIDS!
Over 60 pages of colouring! Hours of fun!
Includes:
∗ Bananas in Pyjamas
∗ Ben and Holly's Little Kingdom
∗ Bing
∗ Charlie and Lola
∗ Dinosaur Train
∗ Giggle and Hoot
∗ In the Night Garden
∗ Maya the Bee
∗ The Octonauts
∗ Peppa Pig
∗ Play School
∗ Sydney Sailboat: Bubble Bath Bay
Suitable for ages 3 years+
Payment & Security
Your payment information is processed securely. We do not store credit card details nor have access to your credit card information.