Roll over image to zoom in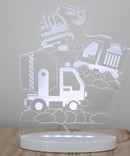 Description
Duski Dream Lights feature a child-friendly, safe LED colour changing night light which is ideal for children of all ages. With a range of on-trend designs, parents are bound to find the perfect match for their child's bedroom theme and style.
This sleek, timeless night light comes complete with its own remote which can be used to change the Dream Light to 13 different colours, a sequence of rainbow colours, reading light, dim overnight setting and an optional timer setting. This much-loved night light is sure to be a HUGE hit with your children.

Duski Dream Lights are plug-in only lights and come with a USB cord to run all night. 
* Please note: This product does NOT come with the wall plug adaptor. To use your lights with the USB cord included you can use ANY USB outlet including laptop, computer, any iPhone or smart phone charger.
* The remote included in this product requires 2 x AAA batteries to operate - batteries are not included. 
Lovingly designed in Australia
Features:
Power Source: plug in
LED lights – low power consumption and never get hot or need replacing
Use on colour changing mode or set to one static colour
Timer: Use the remote to set the 1-hour timer or leave it on all night
Set the dimmer: 4 levels of brightness
Emits enough light to read by when on white light on the brightest setting
For minimal light use the red light on the lowest setting – sleep mode (half-moon button).
The rainbow colour changing function gently scrolls through all the colours providing enough light to feed, change and check on sleeping tots.
Remote control designed to take AAA batteries. Unlike other remote controls on the market, this remote control uses AAA batteries, not button batteries.
Dimensions: 24 x 15 x 5cm approx. depending on design
What is included:
Your Duski design and LED light base
USB Cable
Remote control
CB:CL10/22
Payment & Security
Your payment information is processed securely. We do not store credit card details nor have access to your credit card information.