Roll over image to zoom in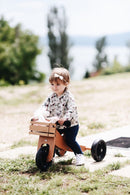 Description
Kinderfeets Tiny Tot is the smallest 2 in 1 balance bike on the market. It has a patented Dutch inspired, low step-through frame which places children's feet closer to the ground so they feel safe.

One-year-olds can start with the Tiny Tot as a trike. With three wheels they can easily start to learn how to use their feet to get moving. When you feel your little one is ready, the Tiny Tot easily converts from a trike to a 2 wheel balance bike.
The 2 in 1 has an adjustable cushioned seat, safety hand grips featuring hand protection bumpers and is painted with non-toxic, water-based paint. The tyres are made from biodegradable EVA.
Available in natural bamboo and colored birchwood - an eco-friendly, replenishable resource.
It is suitable for children aged 12-24 months and has a maximum weight rating of 20kg. The minimum seat height is 22cm and the maximum seat height is 28cm. The top of the handlebars sits 36cm above the ground and it weighs a light 2.8 kgs.
Please note: While the recommended age for this product is for children 12-24 months, a child's size, fine motor skills and balance coordination should also be taken into consideration. Some children may take a little longer to develop these skills than others.
WHY BAMBOO?
This product is crafted from skillfully engineered and sustainably sourced bamboo plywood that's finished with a protective lacquer stain. Bamboo is stronger than steel and heartier than most hardwood, making it a versatile and valuable building material. Bamboo is also eco-friendly in many ways. It produces more oxygen and absorbs more carbon dioxide than trees. While hard wood takes 30-50 years to mature, bamboo takes between 3-5 years and requires no pesticides or chemicals to encourage the maturation process.
CB:PM09/23
Payment & Security
Your payment information is processed securely. We do not store credit card details nor have access to your credit card information.