Roll over image to zoom in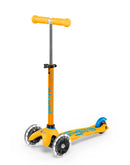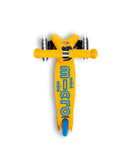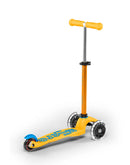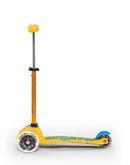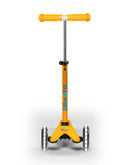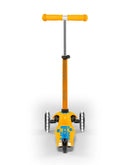 Description
Recommended for ages 2 - 5 years
LED light up wheels
Unique silicon raised deck
Anodised stem protects from corrosion
Develops balance skills
Stable 3 wheel design
Intuitive lean-to-steer action
Lightweight design
Wide non-slip deck, low to the ground
Quality non-marking wheels
For the brightest kids on the block - say hello to the LED Mini Micro Scooter. The ultimate preschoolers scooter has rolled in with LED wheels which light up when you scoot. These motion-powered LED wheels generate light through dynamo mechanics. Which means there is no need to worry about replacing batteries or the lights going out. An exciting addition to the Mini Micro Deluxe you already know and love.
The 3 wheel Mini Micro Deluxe LED is the ideal pre-schooler's scooter with the intuitive lean-to-steer system supports younger children to develop your child's balance and co-ordination. The adjustable handle bar allows the scooter to grow with your children safely while they negotiate pavements and explore without the help of Mum or Dad. This lightweight scooter has the added safety feature of an extra grip silicone injected deck for stability. Whilst the anodised T-bar protects from rust.
Both you and your child will love the fun and freedom the Mini Micro Scooter Deluxe LED brings alongside with the excitement of the light up wheels.
Please note: additional shipping charges may apply to this bulky product. Please call us on (03) 9563 9649 to confirm before purchasing.
CB:JC09/22
Payment & Security
Your payment information is processed securely. We do not store credit card details nor have access to your credit card information.