Roll over image to zoom in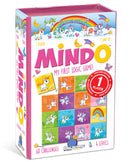 Description
Play solo, or combine them and race your friends. No matter which version you choose the rules are the same: turn and flip the double-sided tiles until you have recreated the colour pattern on the challenge card.
They only fit one way into a 3 x 3 or 4 x 4 grid, so think and plan carefully. 60 different challenge cards and 4 levels of difficulty ensure hours of brain teasing fun!
In this version, Starlight and her unicorn friends encourage little dreamers to think logically so they can solve the challenges by themselves.
 Skills:
Visual Perception
Logic
Focus and Attention
Play Time: 10-20 minutes
Contents:
60 Challenge Cards (with solutions)
9 Tiles
Illustrated Rules
Recommended for ages 5 years +
CB:JC09/22

Payment & Security
Your payment information is processed securely. We do not store credit card details nor have access to your credit card information.