Roll over image to zoom in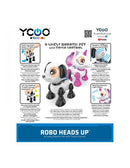 Description
Robo Heads Up is an interactive robot that comes & goes with one touch! Push its head down, it will bark and go forward! Lift its head up, it will bark and go backward! Available in two different styles: Puppy and Unicorn.
Speaker for lively sound SFX Lively LED Eyes.
Dimensions: 29 x 30 x 31.5 cm
Recommended for ages 3 years +
CB:EM9/21
Payment & Security
Your payment information is processed securely. We do not store credit card details nor have access to your credit card information.