Roll over image to zoom in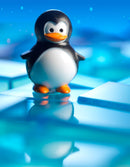 Description
Keep the Penguins on the ice!
Penguins on Ice features 80 challenges where players use their brains to place the shifting, pentomino pieces with penguins on the board to solve each puzzle.

Brain Games Build Skills
Kids and adults can build upon their spatial insight, planning, problem solving and concentration skills while playing the Hide & Seek Jungle board game. But it's so fun to play, you won't realize you are building skills!
Puzzle Includes: beautiful 3D game board, 5 3D pentomino "ice" puzzle pieces with penguins, booklet with 80 challenges and solutions.
This challenging puzzle is perfect for kids and adults ages 6 and up. With the 4 different skill levels of Starter, Junior, Expert, and Master, you are sure to find the perfect challenges to tease your brain and think outside the box.
Award-Winning
SmartGames is the worldwide leader in multi-level, logic-based family fun games. Our award-winning games offer multi-level play from easy to challenging, and we pride ourselves in making family board games that are perfect for players of all ages.
Players: 1

Challenges: 80
Recommended for ages 6 years +
 CB:PM10/23
Payment & Security
Your payment information is processed securely. We do not store credit card details nor have access to your credit card information.