Roll over image to zoom in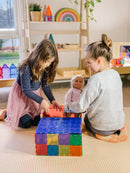 Description
Connetix magnetic tiles are perfect for open ended and creative play. The simple shaped magnetic tiles can be used to build a huge range of shapes and patterns, encouraging imaginative and creative play, and enhancing maths, geometry and science skills. They also grow WITH the child, and as they learn and develop, their play becomes more evolved.

When it comes to magnetic tile play, it's all about that base! Help children bring to life their inspired ideas and build twice as tall with the Connetix 2 piece Base Plate Pack, featuring one blue and one green 30cm x 30cm powerful magnetic building plate!
Fostering creativity, imagination and learning through PLAY, this pack provides endless possibilities. As a large building plate with numerous magnet points, Base Plates expand the creative potential of magnetic tile play – supporting the creation of taller towers, sturdier castles and dollhouses, inspiring various forms of play such as fine motor skills and magnetism exploration (attaching tiles to each magnet point), symbolic play (creating ice cream/market stands, tables and chairs for tea parties), small world play (assigning the tiles as grass, ocean or sky) and mazes, just to name a few.
As an open-ended quality toy, Connetix will grow WITH your child as they learn and their play becomes more complex. Kickstart your collection and complement your Base Plates Pack with the Connetix 212 piece Mega Pack or take your magnetic tile play fun to the next level with the unique 92 piece Ball Run Expansion Pack!
Connetix Tiles are designed by two Australian families. After seeing how their own children not only enjoyed playing with magnetic tiles but were learning while doing so, they decided to create their own version that were stronger, more scratch resistant and offered clearer refractions that other tiles on the market.
All tiles are made using non-toxic ABS plastic that is BPA and Phthalate free, sealed and riveted for extra safety.
The unique beveled design allows Connetix to be strong while offering beautiful clear refractions.
Connetix are compatible with other leading brands.
Recommended for ages 3 years + (contains magnets and small parts).
CB:CL11/22
Payment & Security
Your payment information is processed securely. We do not store credit card details nor have access to your credit card information.