Roll over image to zoom in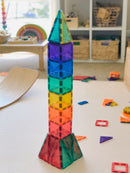 Description
The perfect introduction to Connetix, providing hours of endless fun for both children and adults alike!
Discover open-ended play and learning with our 60 Piece Rainbow Starter Pack!
Featuring large and small squares, plus three types of triangles in six vibrant rainbow colours, this pack is the perfect introduction to Connetix play or as an addition to growing magnetic tile collections.
Designed to foster imagination and encourage children to explore STEAM learning through PLAY, this pack will inspire children to create 2D and 3D designs such as houses, castles, farms, zoos, car parks, rockets, towers, puzzles, sorting boxes and coin drops, plus so much more!  Watch as they explore concepts of magnetism, design, shape, patterns, engineering, mathematics and colours while developing fine motor and problem-solving skills.
As an open-ended quality toy, Connetix will grow WITH children as they learn, and their play becomes more complex. 
The Connetix 60 Piece Starter Pack includes:
6 x Large squares
24 x Small squares
6 x Equilateral triangles
6 x Right angle triangles
6 x Isosceles triangles
6 x Window square pieces
6 x Hollow square pieces (door frames)
Idea Booklet
Connetix Tiles are designed by two Australian families. After seeing how their own children not only enjoyed playing with magnetic tiles but were learning while doing so, they decided to create their own version that were stronger, more scratch resistant and offered clearer refractions that other tiles on the market.
All tiles are made using non-toxic ABS plastic that is BPA and Phthalate free, sealed and riveted for extra safety.
The unique beveled design allows Connetix to be strong while offering beautiful clear refractions.
Connetix are compatible with other leading brands.
Recommended for ages 3 years +
CB:YL12/23
Payment & Security
Your payment information is processed securely. We do not store credit card details nor have access to your credit card information.