Roll over image to zoom in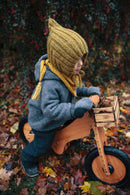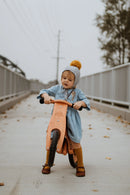 Description
Welcome to the world of #NoTrainingWheels!
Patented, award winning balance bikes crafted from lacquered bamboo wood. Possibly the most beautiful balance bike you've ever seen. Ergonomically designed seat and handlebar position encourage good posture and maximise comfort. Washable cushion seat. Adjustable seat height: 30.5 to 38 cms. EVA airless biodegradable tires. Foot pegs to help children position their feet properly for cruising and to prepare for pedals.

Care instructions: This is a wooden product protected by a lacquer veneer coating. Never store it in a location exposed to the elements or where condensation can build up overnight (such as a shed or balcony); or in a room with high humidity (such as a bathroom or laundry with a condensation dryer). Bolts may loosen from use. Be sure to check them before each ride. Detailed care and assembly instructions ship with this product.

Dimensions: 33" L x 14" W x 21.5" H (84 x 35.6 x 55 cm).
WHY BAMBOO?
Bamboo is stronger than steel and heartier than most hardwood, making it a versatile and valuable building material. Bamboo is also eco-friendly in many ways. It produces more oxygen and absorbs more carbon dioxide than trees. While hard wood takes 30-50 years to mature, bamboo takes between 3-5 years and requires no pesticides or chemicals to encourage the maturation process.

Crafted from skilfully engineered and sustainably sourced bamboo plywood that's finished with a protective lacquer stain. Made in an ethically run factory that Kinderfeets (and Artiwood) inspect and evaluate regularly. Tested and certified to European and Australian standards.
A crate or basket are also available as optional extras.

Recommended for ages 2 years +
CB:PM09/23
Payment & Security
Your payment information is processed securely. We do not store credit card details nor have access to your credit card information.