Roll over image to zoom in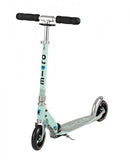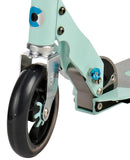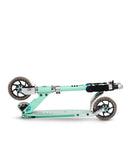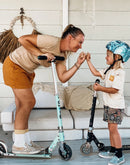 Description
Not just for the weekend adventures, this compact city smart scooter is a great all-rounder to go near or far and tuck or store away at the end of the day.
For ages 7 - Adult
Shock absorbing system

Easy folding action
Handy kickstand
Large 145mm wheels
Extra polyurethane for a smoother ride
The Speed+ Special Edition is a sleek, sophisticated and fast. Perfect for kids who want that extra go-fast or adults who want a comfortable, compact commute. 
The ultra-smooth, fast ride is the result of the combination of denser high quality polyurethane wheels and the unique shock absorbing design of the hubs.
This quality design simply means it glides safely and smoothly over bumps, absorbing them, creating a smooth and fast ride that can be enjoyed by all.
Recommended for ages 7 years +
Please note: additional shipping charges may apply to this bulky product. Please call us on (03) 9563 9649 to confirm before purchasing.
CB:PM06/22
Payment & Security
Your payment information is processed securely. We do not store credit card details nor have access to your credit card information.