Roll over image to zoom in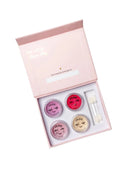 Description
A gorgeous makeup kit for little ones who love to dress up and play - and for parents who want to protect their skin from harsh grown up products (& their expensive makeup!).  The set is packaged in a luxurious magnetic closing box making it perfect as a special gift or a gift for a birthday party!
The colours included in the Mini Makeup Set are sweet, colourful, shimmery and designed for hours of fun followed by easy removal without harsh scrubbing or chemicals - just use water!  
Includes:

2 Natural Eyeshadows, Fuchsia & Gold
1 Natural Blush - Pastel Pink
1 Natural Vegan Lipstick - Pink
2 Applicators
The products have been formulated by a world-leading Cosmetic Chemist without the use of chemicals or preservatives. The formula is non-toxic and hypoallergenic, and the ingredients are 100% natural & vegan so won't irritate sensitive skin.
Eyeshadows, blushes and lipsticks are all handmade right here in Australia too! 
The fun box was designed by local Western Australian Designer Rosa Ronco and was created to inspire kids at playtime with our beautiful hand drawn icons. For children who aren't quite reading yet, our lid designs include cute face icons so kids can recognise what each product is used for, giving them independence during their play experience.
All Oh Flossy makeup is proudly free from Preservatives, parabens, fragrances, nano-particles, phthalates, petroleum (and petroleum by-products), PEG's and talc.
Recommended for ages 3 years +
CB:JC11/23
Payment & Security
Your payment information is processed securely. We do not store credit card details nor have access to your credit card information.